Front Desk
Control Your
Day-to-day Tasks
A selection of modern front desk solutions is available to help you organise your daily operations at your accommodation. Reach out to your guests in a myriad of ways.
Daily Tasks Done Right
Our Front Desk solution is designed for small to medium-sized accommodations. It is a simple, low-cost, and
very intuitive system that integrates seamlessly with our booking platform.
Affordable For Your Hotel

Great features with the best price in the market. Front Desk offers robust capability for your daily tasks at an affordable price.

Effectively Serve Guests

Great day-to-day operations translates into quality service for your guests, increasing their satisfaction and loyalty.

Efficient Internal Operations

Maintain direct control over the daily operations of your hotel. All systematically managed within Front Desk.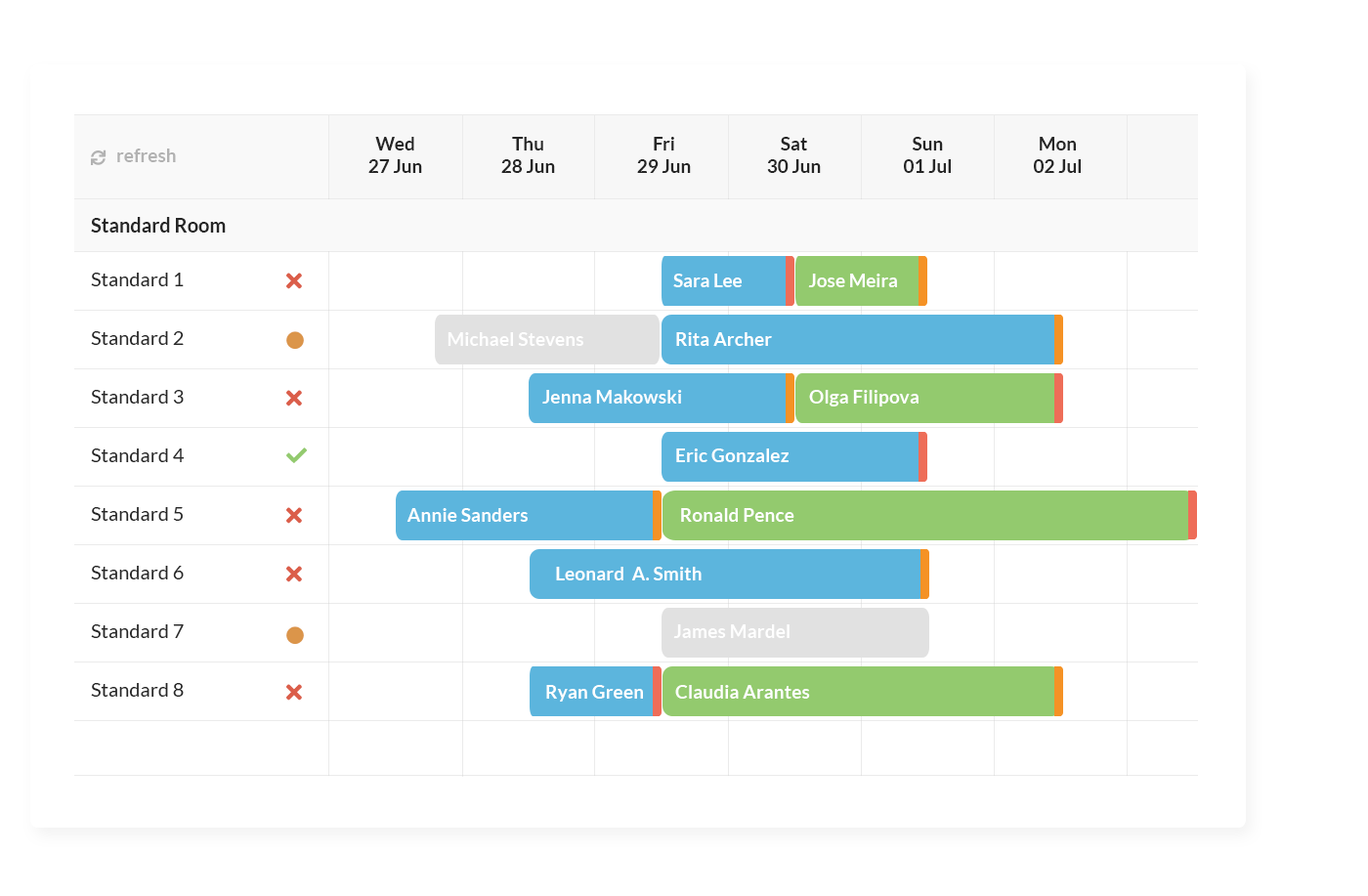 Multiple Views Calendar
The calendar allows front desk staff to see what is going on with a glance. Several key features stand out like colour-coded status, two-week or four-week views, access to guest booking details straight from the calendar, and occupancy data.
Try it today
Main Features
Easy-to-use interface

The intuitive Front Desk interface is simple yet powerful, with user-friendly tools and guidance along the way.

Room Assignments

Easily assign guests to a specific room at any time, and make changes with a simple drag and drop capability.

Fast Check-in Process

With all guest information already entered into the system, check-in is a breeze for all involved, reception staff and guests.

Day-to-Day Occupancy Rates

Your staff has easy access to see at a glance which rooms are occupied, along with check-ins and check-outs.

Booking Payment Status

Instantly view each guest's portfolio balance and amount due to avoid confusion, missed payments, or overpayments.

Manage In-house Extras

Add optional booking extras with fees and discounts to any reservation, including transfers, meals, tours, and more.

Create Room Closure

Block off rooms in advance or at a moment's notice to allow for events like maintenance or renovations.

Detailed Payment Information

Guest payment details are safely stored behind an extra layer of security, and made accessible to the right people when needed.
Front Desk
Modern, Simple and
Really Easy to Manage

Housekeeping Management
The Housekeeping tools allow you to manage room cleaning statuses and housekeeper teams. With a color-coded interface, the Housekeeping module helps you to visualize the status of all rooms and assign tasks to housekeepers via SMS.

Pre-arrival and Post-departure Emails
Our Front Desk system allows you to create and customize a pre-arrival template email for guests to remind them of the booking, and a post-departure email to thank them for their stay and provide a feedback link.

Guest Invoice
The system generates the final account for the guest on the letterhead of your accommodation. A fully itemized invoice is generated including all extra costs and any pre-payments made.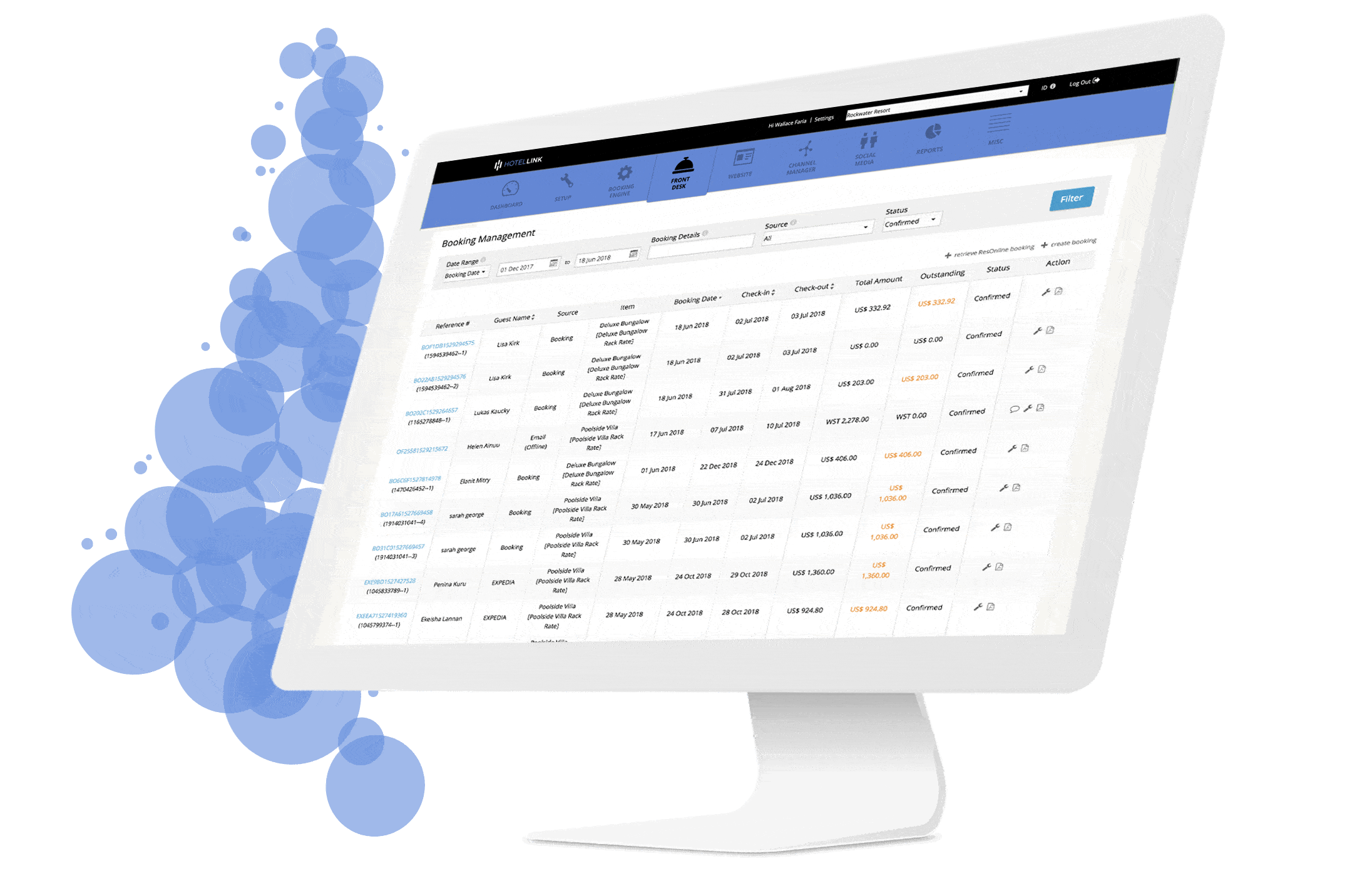 Full Range of Reports
With one click, run reports for arrivals and departures, guest details, room occupancy, development, operations, and so much more. Learn where your revenue is coming from, which rooms are most popular, and other details to help you improve your business.
Front Desk integrates seamlessly with our other solutions, such as a booking platform, channel manager, and website, making it easy for you to manage your accommodation's online presence and in-house operations.
Try it today
Global and Local Distribution
Connect to the world. Manage your online inventory distribution with our powerful channel manager and stay updated on how your preferred online travel agencies are helping you maximise brand exposure.
We will connect your property to the world's leading booking sites, providing a reliable and secure way to manage your online distribution.
See all integrations